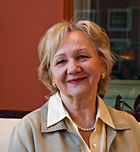 Licensed in MA | Broker Associate Berkshire Hathaway HomeServices Barnbrook Realty
Berkshire Hathaway HomeServices Barnbrook Realty
271 Main Street
Great Barrington, MA 01230
Email Website Phone: (413) 528-4423

About Dagmar
Dagmar Kubes was born and raised in Prague, Czech Republic, emigrated to the United States after the Russian tanks came to Prague in 1968
and she proudly became American Citizen in 1974.
Lived in New York City, worked for Pan American Airways, traveled the world and finally settled in the Berkshires in 1997.
Dagmar has started her Real-Estate career as a sales agent in 2001 and soon after upgraded her rank to the Real Estate Broker.
With Barnbrook Realty Team since 2011, Dagmar provides the superior real estate service to her clients and she also shares with them her love for the region.
Dagmar's Testimonials
Very pleased with the overall experience having Dagmar Kubes as my realtor. From my initial meeting with Dagmar I felt she had the knowledge and experience of selling homes in my neighborhood from a Realtors perspective. She led me through all necessary steps from the listing to the closing. Her professionalism in researching and finding contractors that would be needed to perform the inspections was wonderful. Her communication in keeping me aware of the certain deadlines that needed to be [...]
09 November 2022, 14:16 PM